So - I tried on the dress.
IT FITS PERFECTLY!
I mean, you could even say it's a little loose - but in a good way.
It looks awesome and now I'm ridiculously excited about it.
I also thought I'd try on a necklace that still had the tag on it from 2 Christmases/birthdays ago.
Jess bought it for me and I couldn't wear it because - you guessed it - my neck was a little too ... uh .... round.
So I thought, 'Hey, why not try it on. If it still doesn't fit, well, it will.'
So guess what?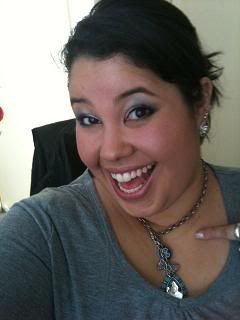 Please ignore the face, just look at my neck.